Zynga Morale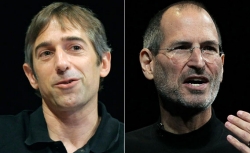 I'd not be surprised if
Facebook
has a similar story, although
Zynga
has taken a bigger beating. But this is not the end of the road. I think Zynga could reinvent itself. Markets go up, markets go down, markets go up.
DowninthedumpsVille: Morale Sinking at Zynga Along With Stock Drop
a culture driven by analytics, where every move is recorded, measured and evaluated ... ..... it appears the long hours and taxing work environment is causing the inevitable — some are deciding to leave, especially as shares trade 70 percent lower than the company's public offering. .... a "flood of resumes" in recent weeks from Zynga developers looking for jobs or trying to raise capital. .... described morale as grim, while another characterized the feeling as "anxious." ..... During the company's 16th all-hands quarterly meeting today, Pincus reportedly talked about the company's future and fielded tough questions from the crowd as he usually does .... On Wednesday, Zynga's COO John Schappert resigned after only 15 months on the job. .... two weeks ago, Zynga reported a second-quarter earnings flop that led to its stock sliding by 40 percent...... it took only three months for there to be at least three notable departures from Facebook, the social network that it works with very closely and which is also suffering from post-IPO stock woes.... a majority of the 3,000-plus employees, many are also short timers .... Without a long history at the company, it may be hard for some to feel nostalgic about staying during difficult times. .... Zynga said 80 percent of the staff has been there less than two years .... many employees have joined the company through a dozen or more acquisitions. .... tries to figure out how to create a sense of dedication among its employees .... some employees think it might be the time to pull out the checkbook and spend some of the $1 billion it raised in its IPO on retention bonuses
One lesson though is analytics is not everything.
This is about cold, hard cash.
Wall Street
looks at cold, hard cash.
I can't say the two - Facebook and Zynga - went IPO too early. They did not.
In Touch With His Inner Steve Jobs?
Mark Pincus cops to being hard-driving but insists he's a nice guy. .... Tech entrepreneurs are happy to be compared to Steve Jobs, as long as it refers to visionary leadership and not overly demanding, egomaniacal perfectionism. .... his micro-managing tendencies stem from his passion for what his company does
Does Zynga Need a New Game Plan?
For Zynga CEO Mark Pincus, the disappointing earnings confirm what he already knew: His company needs to move aggressively beyond Facebook into mobile gaming and other horizons. To that end, Pincus announced Wednesday the company plans to get into real-money gambling games in 2013. And as he told Slate's Jacob Weisberg in a recent interview, the future success of social gaming depends on a rather simple principle: lowering the barriers to play
Betting Long on Mark Zuckerberg
Pincus still sees Zuckerberg as a great partner and "a visionary guy who wants to change the world."
Poking With a Purpose
Pincus is betting on is that gaming will become more social, with increasing numbers of people drawn into competition via their various social networks..... Despite recent investor doubts, Pincus' social gaming company has more than 300 million monthly active users of games ranging from Farmville to Hidden Chronicles to Zynga Poker. .... Pincus' personal favorite is Scramble With Friends, which he plays regularly against LinkedIn co-founder Reid Hoffman. And Pincus tells Slate's Jacob Weisberg that games like these are perfect for a world increasingly defined by multitasking, because they are "snacks you can consume in a couple of minutes."